Yashar Soltani, the editor of Memari News, an architecture and urban development website, was arrested on 17 September after publishing a letter that showed the office of Tehran's mayor had sold or relinquished public land and apartments worth up to £500m to officials and members of the municipal council under extraordinary discounts and other favourable arrangements.
Soltani's arrest came after the mayor of Tehran, Mohammad Bagher Ghalibaf, an influential politician with a military background, and Mehdi Chamran, the chair of Tehran's city council, filed a suit against him. Judiciary officials later said he was arrested for publishing classified documents although others have questioned the veracity of the claim, saying that Memari News merely published what had been leaked and that it did not have any secret information.
Soltani's detention, however, has brought the issue to the forefront of public consciousness in Iran. Before his arrest, the journalist was only known among the elites, particularly by those following architecture news, but his investigations and subsequent arrest have touched a nerve, prompting huge reactions across Iran.
The revelations have embarrassed Ghalibaf, who has presidential ambitions and has put his name on the list as a candidate in the past. He has largely been seen as a successful mayor, transforming the city and pursuing ambitious plans, such as commissioning bold architecture in recent years.
The leaks also impacted a number of municipal council members who were later named as the beneficiaries of the sale. The letter was written by the national inspection office, tasked with policing corruption in state sector, and was addressed to a senior official at the mayor's office, stating that the sale was illegal and giving an ultimatum for further clarifications.
"Tehran's municipality has suffered losses of around 1.5tr rials [about £33m] as the result of granting unfair and discriminatory concessions," the letter reads. It says that some beneficiaries received discounts of up to 50% on prices that had been undervalued in the first place.
"Yashar Soltani is in jail merely for doing his job as a journalist and is now in Evin prison for revealing corruption in the municipality under Ghalibaf," tweeted one Iranian.
Omid Memarian, an Iranian journalist, wrote that Soltani's detention showed that the authorities were not serious about tackling corruption and that "in reality they only target those who reveal corruption".
Another journalist, Yeganeh Khodami, said Tehran badly needed journalists like Soltani to "stay alive". Other users have been tweeting #FreeYashar to raise awareness about his plight. "In another country, he would have become a national hero, a symbol of investigative journalism, and would have dominated front pages. In Iran? Solitary confinement," wrote one.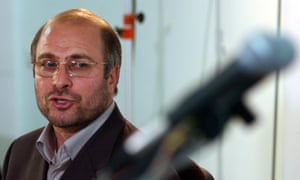 Soltani, speaking to the local Nazar News a few days before his arrest, spoke about the pressure he was facing and said that whether the sale had been legal or illegal, the public had the right to know about it. Access to Memari News was blocked before his arrest and the website was still inaccessible on Friday.
"There has been a lot of pressure on me, heavy pressure, but that's not important, I have no regrets," Soltani told Nazar News at the time. "What belonged to the public was distributed among certain people, and no matter [if] it was done legally or illegally, it was my duty to let the people know given the taxes they pay, they should have known this much earlier … I am prepared to pay the costs"
Hadi Ghaemi, the executive director of the New York-based International Campaign for Human Rights in Iran, said: "The Tehran prosecutor's suspension of a website for publishing an official letter is a blatant abuse of power aimed at suppressing media organisations that are trying to keep officials accountable for their actions."
The new revelations have come at a sensitive time in Iran, where a few months ago another scandal surrounding vast salaries paid to government officials prompted nationwide fury. It led to the resignation of a number of senior officials, including the head of the state insurance regulator.
The public anger at Soltani's arrest has been such that even a number of MPs, in a rare expression of solidarity with imprisoned journalists, have come to his defence. The outspoken MP Ali Motahari, who is allied with the reformists politically but has conservative social views, criticised his incarceration and said journalists should not resort to self-censorship under pressure.
Up to 700 journalists have written to the judiciary calling for Soltani's release, the semi-official Ilna news agency said.
There was also outrage about reports that Soltani appeared to have been forced to disclose the source of the leaked document. Tehran's prosecutor announced that the journalist, while in jail, had named a member of Tehran's city council as the whistleblower. Ahmad Hakimipour later confirmed he had leaked the letter to Soltani.
Reverberations from Soltani's revelations continued after his arrest. Many beneficiaries complained that they had not done anything illegal and that their names were being tarnished. Last month, a member of the municipal council, Abolfazl Ghena'ati, in widely condemned comments, attacked Soltani, saying: "His sister should be given to Daesh [Islamic State] for one week so he would understand."
Late in October, Iran's prosecutor general said on state television that 45 individuals had received properties from the mayor's office under illegal arrangements. At least 36 contracts were reported to have been annulled.
Source: the guardian